PRODUCT & APPLICATION
Focus on R&D, production, sales and service of intelligent manufacturing equipment for poiymeric materials and new high performance matrial.
---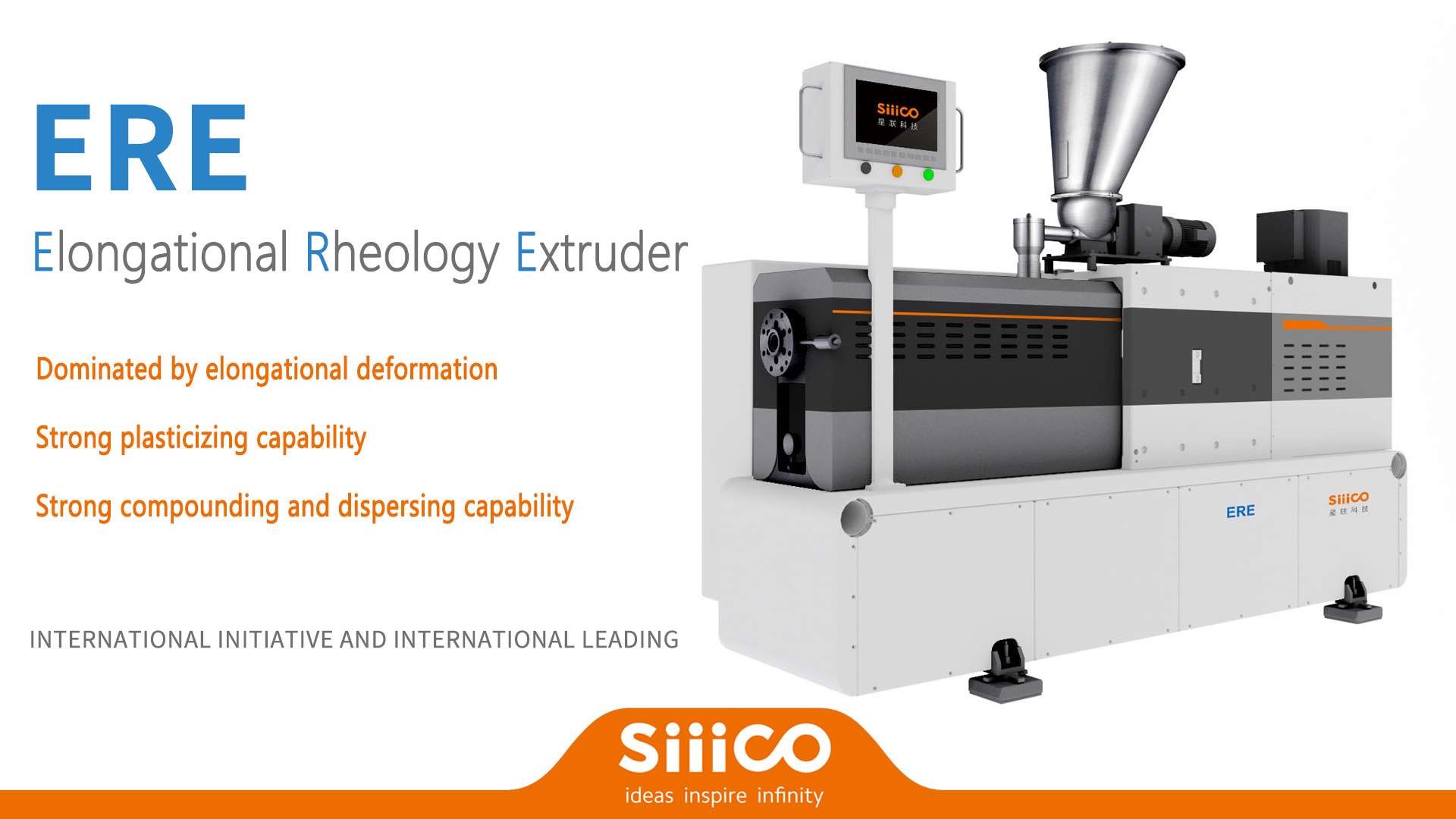 Elongational Rheology Extruder Series is developed and manufactured on the basis of patent technology "Method and a Device for Plasticizing and Transporting Polymer Material based on Elongation Rheology" (referred to as ERE technology) owned by Siiico Technology Co., Ltd. The core extrusion system of this series is especially designed structure for UHMW-PE extrusion, which succeeded in high efficiency processing of UHMW-PE with superior performance. The machine works stably and the product extruded has the characteristics of good wear resistance and strong mechanical properties with smooth surface, little deviation of shape and size.
Advantages of Equipment

Dominated by Elongational Deformation
The molecular weight of the polymer material can be well maintained to give full play to the properties of the material itself.

Strong Plasticizing Capability
High extrusion pressure can be established and kept stable extrusion with high-speed.

Strong Compounding and Dispersing Capability
Composite performance can be improved through special hybrid structures.
Technical Specification
Model

Dia(mm)
L/D
Motor Power(kW)

Output(kg/h)

Machine Size (mm)

ERE

-30
30
24
5.5
20
2000×600×2500

ERE

-40
40
22
18.5
50
3000×800×3000
Remarks: The output is subject to material itself and the specific configuration should take for contract for final criterion. Special specifications can be customized.
Main Configuration
1. Control System
● User friendly features for convenient operation
● Import brand components
2. Main drive Mmtor
● Equipped with servo motor + planetary reducer
● Accurate speed regulation
3. Independently-developed drive distribution unit
● High load-carrying capacity
● Grade 5 high precision, accurate motion output
4. The extrusion system with independent intellectual property rights
● Consist of rotor and stator
● Unique compound motion style
● The stator and rotor are engaged with each other and functional modules such
compounding & dispersing can be added depending on requirements.
Functional Settings
● Remote control , remote modules can be configured for remote monitoring and
maintenance
● Gravimetric system, provide with precise quality control and easy switching between
" weight" &" output" control models

UHMW-PE Production Line


Film Production Line
Extruder type:ERE-40
Max. width:1600 mm
Thickness range:0.3-2 mm
Auxiliary machines: Multi-roller Haul-off Unit, Cooling Bracket , Cutting Unit, Winder

Sheet Production Line
Extruder type:ERE-30 / ERE-40
Width range:60-1200 mm
Thickness range:2-30 mm
Auxiliary machines: Calibrator, Cooling Tank , Haul-off Unit, Cutting Unit, Sheet Stacker

Profile Production Line
Extruder type:ERE-30 / ERE-40
Mold specifications:Can be customized according to customer requirements
Auxiliary machines: Calibrator, Cooling Tank , Haul-off Unit, Cutting Unit, Profile Stacker(Winder)

Pipe/Rod Production Line
Extruder type:ERE-30 / ERE-40
Diameter range:Φ20—Φ280 mm
Auxiliary machines: Calibrator, Cooling Tank (Bellow), Haul-off Unit, Cutting Unit, Pipe/Rod Stacker
Copyright © 2020 Siiico Technology Co., Ltd. 粤ICP备16105518号

粤公网安备44060502001892号 Support: 300.cn dongguan SEO