PRODUCT & APPLICATION
Focus on R&D, production, sales and service of intelligent manufacturing equipment for poiymeric materials and new high performance matrial.
---
UHMW-PE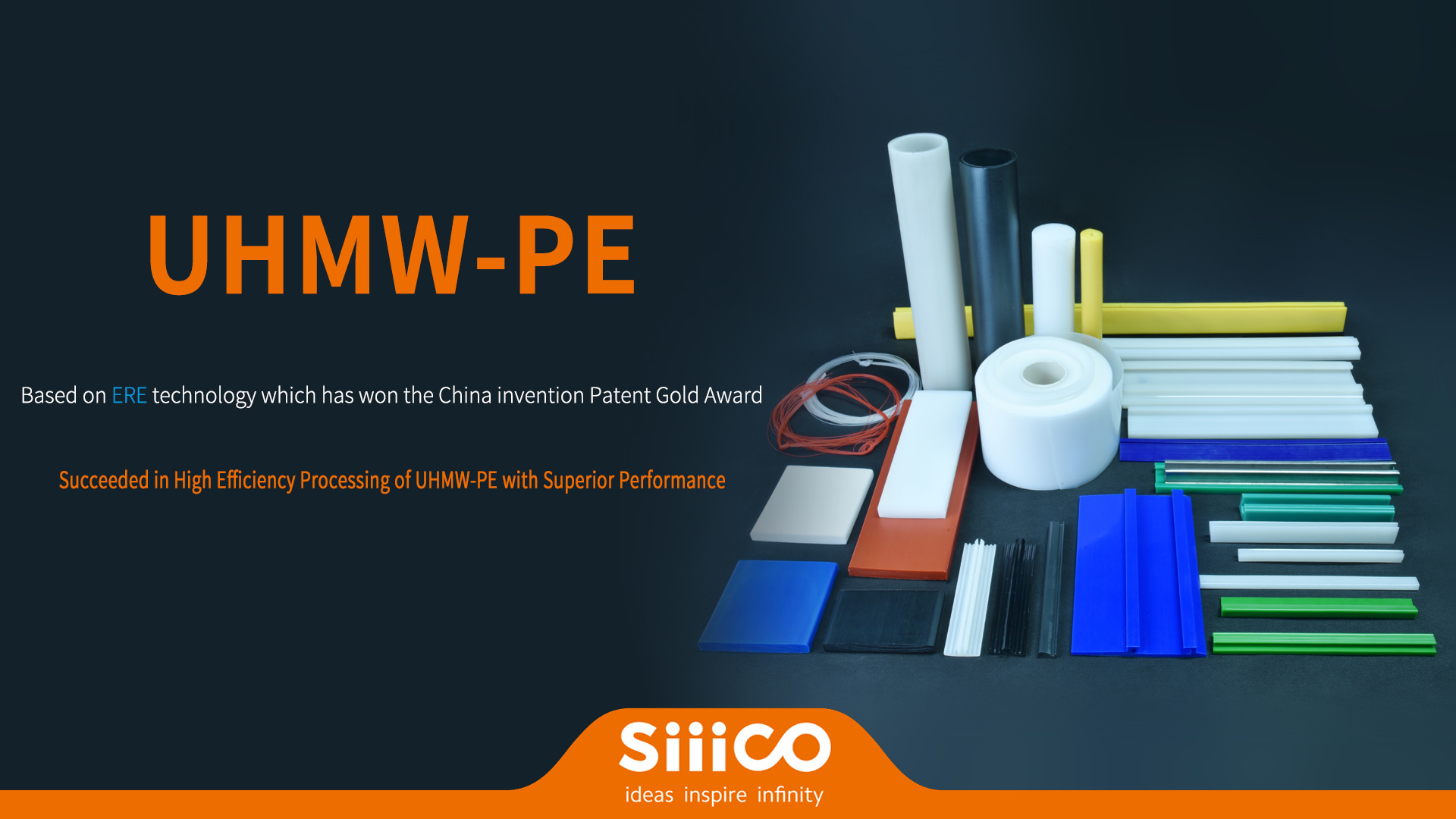 Ultra-high molecular weight polyethylene (shorten as UHMW-PE) belongs to thermoplastic engineering plastics and generally refers to polyethylene with a relative molecular weight of more than 1.5x106.The application range of UHMW-PE is similar to polymer materials such as nylon(PA), polyoxymethylene(POM) and Teflon(PTFE) etc. The UHMW-PE products processed by our own ERE are showing extremely high comprehensive performance.They are widely used in different fields: conveying machinery, food processing, packaging machinery, building templates, pipeline transportation for various corrosive media such as solids, liquids, and particles etc., surface protection materials, manufacturing of various wear-resistant parts, industrial brushes, front-removing and polishing abrasives etc. To reduce energy consumption, noise, improve the quality and service life of product.
Features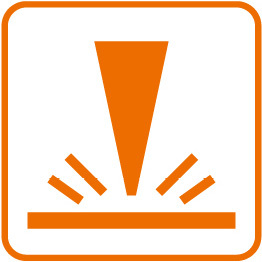 Extreme wear resistance/long service life
The wear resistance of UHMW-PE is 5 times that of PA66, 10 times that of HDPE and PVC, 7 times that of carbon steel, 27 times that of brass, the higher the molecular weight of material is used, the better the wear resistance of the product will be.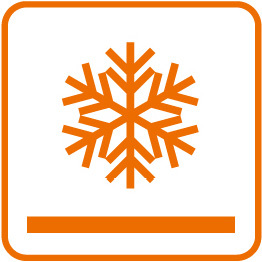 Good low temperature resistance
UHMW-PE profiles extruded by ERE are used in a large number of applications involving high and very low temperatures, such as spiral frosters or cold stores, especially still malleable at liquid nitrogen temperature (minus 269°C) and maintains stable working performance.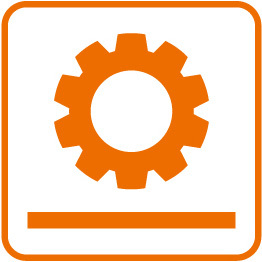 Outstanding slide characteristics
The low slide friction coefficient of UHMW-PE enable profiles extruded by ERE to reduce the driven energy required in conveyor system and increase the stability of processes without sticking.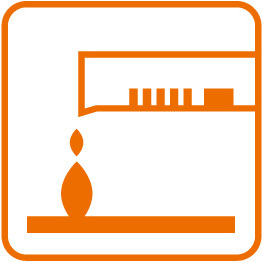 Very high resistance to chemicals
Except for strong oxidizing acid, UHMW-PE can withstand various corrosive media and organic media in a certain temperature and concentration range.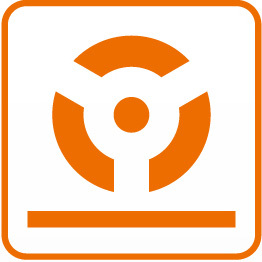 Hygienic and non-toxic
UHMW-PE is in line with the US FDA food grade certification and can be used as conveyor track to contact food and medicine.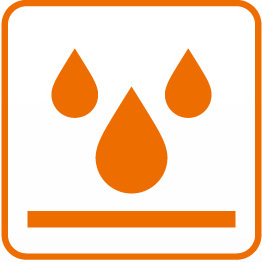 Waterproof and insulating properties
Almost no moisture absorption (below 0.01%), and UHMW-PE has good electrical insulation performance.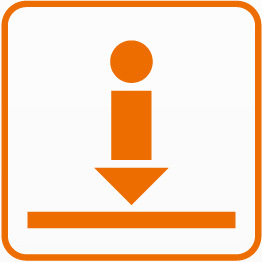 Extreme impact resistant
The impact resistance of UHMW-PE is 2 times that of PC, 5 times that of ABS, and 12 times that of POM & PBTP, and especially keeps strong impact resistance in the subzero low temperature environment (minus 195 ℃).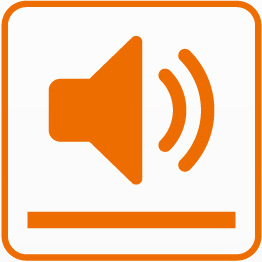 Sound absorption and noise reduction
The best performance of sound and noise absorption among all plastics can improve product quality and reduce noise pollution.
Physical Properties
| | | | |
| --- | --- | --- | --- |
| Molecular formula | - (-CH2-CH2-) -n- | Shore hardness | 60HD |
| Average molecular weight(g/mol) | 1.5×106 ~ 10×106 | Tensile Strength | ≥30MPa |
| Density | 0.920~0.964g/cm³ | Impact strength | NB(No broken) |
| Melting temperature | 130~136°C | Elongation at break | 350%-500% |
| Heat deflection temperature | 85°C | Sand-slurry wear | ≤0.35% |
| Service temperature | -169°C~85°C | Coeffcient of linear expansion | (1.5- 2.5)10-4C-1 |
| Friction coefficient | 0.08 | Simulating thrust wear | <0.1% |
Industries of application: floor mats, insulating materials, wear-resistant gaskets, furniture gaskets, slideway, wear-resistant panels and other working surfaces that need to slide.
More



Industries of application: can be used for the preparation of ultra-high fiber with high strength and fine filament with excellent comprehensive properties.
More

Application Fields

Nuclear power generation industry
New type of shielding material against gamma rays and neutron radiation can be made with combination of UHMW-PE to prevent the harm caused by radiation to individuals and society.

Wind power industry
The blades with UHMW-PE can be used to extend the service life of the equipment and improve the efficiency of power generation.

Telecommunication base station industry
UHMW-PE can protect the telecommunication base station equipment from various worse weather and work properly.

Waste-water treatment industry
In primary and secondary WWTP processing applications, UHMW-PE is the best choice for sedimentation and clarifier tank components. No other material can match the benefits and long service life in high abrasion and high impact applications.

Automotive engineering industry
UHMW-PE can effectively ensure smooth working of conveyor line and prolong service life of chain guide, modular belt and other accessories of the conveyor as well as reduce noise.

Logistics sorting conveyor line
UHMW-PE can effectively reduce noise & energy costs, and greatly extend the service life of the equipment.

Tobacco conveyor line industry
Thanks to the advantages of very high wear resistance and low slide friction cosfficient, UHMW-PE can solve the problem of quick-wearing on cigarette packing and effectively improve the efficiency of conveyor line.

Food and beverage packaging conveyor line
UHMW-PE is in line with FDA food grade, and can be used as conveyor parts to contact food and prevent packaging from damage, scratch, decrease the abrasion of accessories, noise and cost of energy consumption.

Parts and components of various machinery
UHMW-PE can be made into arts and components and widely used in various machinery through owing to the characteristic of durability ranking first among engineering plastics.
Drawing Diagram
Complete solution from formulation design of material, die manufacturing to delivery of product as well as special customization are just for you!

Copyright © 2020 Siiico Technology Co., Ltd. 粤ICP备16105518号

粤公网安备44060502001892号 Support: 300.cn dongguan SEO