ERE Core Equipment
Owning the patented technology of "Method and a Device for Plasticizing and Transporting Polymer Material based on Elongation Rheology" invented by Qu Jinping, who is the Academician of China Academy of Engineering, Siiico have successfully developed "Elongational Rheology Extruder (referred to as ERE)" with independent intellectual property rights.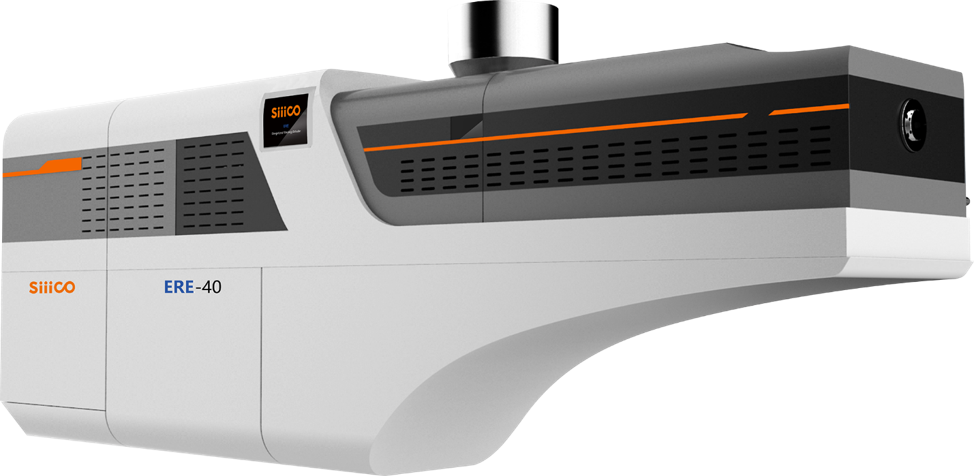 Advantaged Applications
Processing of polymer material extreme rheological properties (e.g extrusion of UHMW-PE, PTFE).
Processing of thermal sensitive materials (e.g Biodegradable Materials)
Processing of composite materials required effective compulsory compatibility by physical means (e.g Continuous Production for Adhesive).
Processing of polymer material required homogeneous compounding & dispersion, as well as direct forming (eg. One step for PVA Film Blowing).
Processing of polymer material required with accurate control of residence time (e.g Production of Compatilizer).
Our comprehensive range of products
1. ERE for UHMW-PE Series and Experimental Series which provides a new experimental option for the optimization of polymeric processing technology;
2. Terminator for White Pollution on Mulch Film-High-strength, Weather-resistant and Easy-to-recycle Mulch Film (Gaobao Film);
3. UHMW-PE Products with superior performance;
4. ERE Continuous Adhesive Production System which has brought a major breakthrough in the production process of polymer waterproofing membrane industry;
5. Meltblown Materials with better stability; and Food-grade Fully Biodegradable Composite Materials which can be easier to process etc.
The technology theory of ERE takes advantage of the periodical volume change of material volume change of material during processing to realize polymer conveying. The technology shows outstanding characteristics including high efficiency, short process and low energy consumption, which provides a new and green processing technology for polymer industry.
Complete Positive Displacement Volume Conveying
Utilizing the continual periodic volume change of material during process, ERE conveys polymer by complete positive displacement with characteristics of high efficiency independency from material property and low energy consumption and so on.
Plasticizing and Mixing Process Dominated by Elongational Rheology
The plasticization and mixing process of ERE is dominated by elongational deformation, which shows advantages including high efficiency in matter and heat conveying, good dispersing ability, and low polymer degradation or fiber breakage caused by shearing.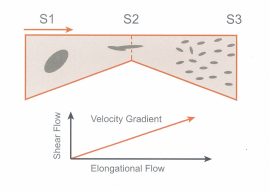 *Disensoin and Mixing Process i Elongational Flow

*Normal stress maks the breakup of nano particle conglomeration easier.

*Maximum fiber length is retained.

*The dispersion phase in blend system comes to be fiberous distrubition.
Geometry Topology Structure of Non-screw Extrusion System
There is no abrupt change point or dead zone in elongational rheology extresion system, which ensures short and narrow residence time and less thermal-mechanical degradation.

*Geometry Topological Schematic Diagram of the Extrusion System
Short Thermo-mechanical Process
ERE has short thermo-mechanical process in material conveying and high efficiency in transferring mass and heat, which leads to obvious competitive edge in low energy consumption and less material degradation.
Low Energy Consumption during Plasticization Conveying
Proved by test and theory, specific energy consumption (SEC) for ERE is lower than conventional screw extruder and close to minimum SEC.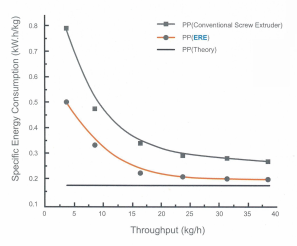 *Relation between Specific Energy Consumption and Polymer Throughput
Good Extrusion Stablility
In ERE, there is good linear relation between polymer throughput and rotate speed. The throughput does not change with die pressure, resulting in good stability for sheet, pipe and blow molding extrusion.

*Relation between Throughput and Rotate Speed

*The Influence of Die Pressure on Throughput
Less Molecular Weight Reduction
There is less molecular weight reduction for product by ERE, which facilitates the extrusion of heat seneitive material such as PVC, PVA and PET.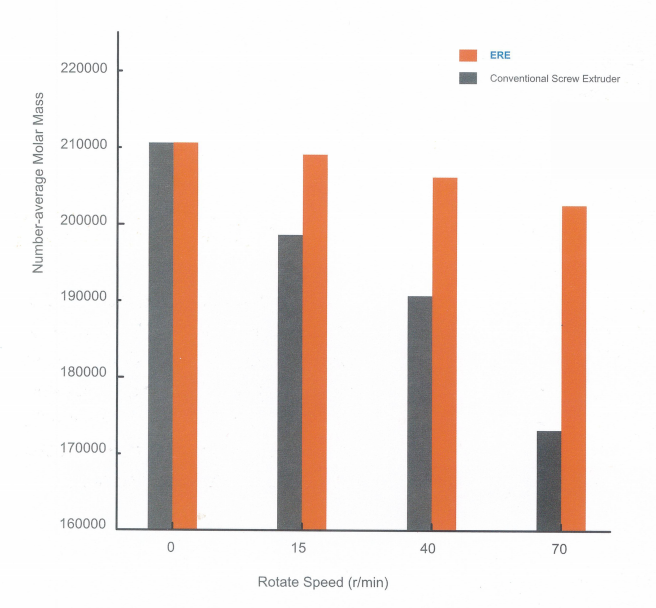 *Comparison of Molecular Weight before and after Extrusion
Homogeneous Mixing and Dispersion
During plasticizing process in ERE, polymer melting is dominated is dominated by elongational deformation in polymer matrix and facilitates general and engineering plastic modification.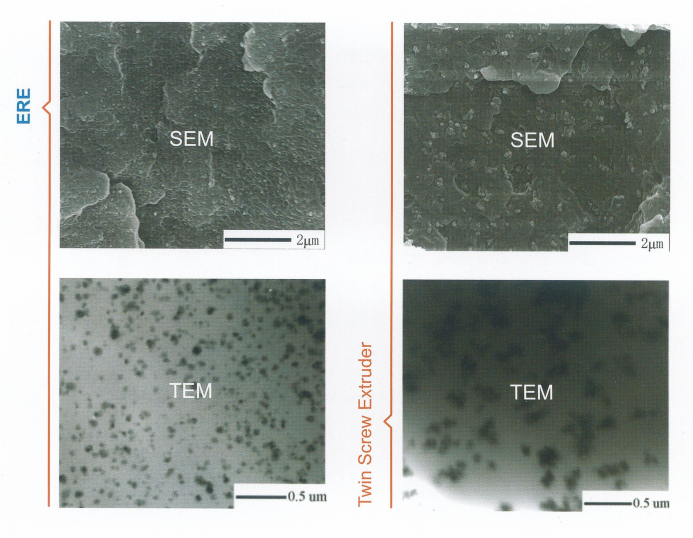 *LDPE/Nano Calcium Carbonate
Self-reinforcement with Enhanced Orientation
After extruded with volume elongational deformation, crystalline polymers show strong orientation and high crystallinity. Elongational deformation facilitates crystal refine, which enhances the strength of PP, PA and PLA spinning.
Good Compatibility
With good compatibility for various polymer materials, ERE is able to complete mixing extrusion molding processing of high and ultra-low viscosity materials, such as m-PE, UHMWPE, high concentrated ,master batch and adhesive and so on.
SALS Picture of PLA

POM Photograph of PLA
Compared with conventional screw extruder, ERE owns characteristics such as efficiency of material conveying and good compatibility and so on. ERE also processes obvious advantanges in lowering energy consumption, reducing polymer degradation and enhancing product performance. The equipment has wide applications in extrusion molding, plastic mixing, rubber processing, natural polymer material and adhesive processing and so on.
Fiber Reinforced Plastics
ERE could ensure homogeneous mixing and maintain fiber length maximumly during processing, providing product with high performance.

Long Glass Fiber Reinforced

Continuous Glass Fiber Reinforced PP

Carbon Fiber Reinforced Plastics
UHMWPE
ERE solves the difficulty of high viscosity melt conveying and plasticizing. This breakthough realizes the high efficiency processing of UHMWPE and widend its applocation range.

UHMWPE Fiber

UHMWPE Pipe

UHMWPE Rod
Others

PVC Plate

PP Non-woven Fabric

PVA Film

Foaming PP

PVC Pipe

PC Plate

PE Film

PE Cable

Flame Retardant Master Batch

Hot Melt Glue

Adhesive
Copyright © 2020 Siiico Technology Co., Ltd. 粤ICP备16105518号

粤公网安备44060502001892号 Support: 300.cn dongguan SEO