Gaobao Film participates in the "Central Guiding Local Science and Technology Development Project" to assist in the green development of agriculture in Kashgar region
---
Recently, the "Central Leading Local Science and Technology Development Project: Launching Ceremony of Application and Promotion of Gaobao Membrane on cash crop in Xinjiang" was held in Kashi Agricultural Extension Center. Leaders such as Umar Sayit, Secretary of the Kashgar Agricultural Extension Center, Wang Jun, Deputy Director, Liu Changwen, Deputy Director, Cheng Wei, Director of the Yingjisha County Agricultural Technology Extension Center, Wei Jianhua, Director of the Shule County Agricultural Technology Extension Center, and relevant leaders of Guangdong Xinglian Technology Agricultural Film and Maigaiti Agricultural Film attended the launch ceremony.
This project adopts the technologies and achievements of the Key Laboratory of Ecological Environmental Polymer Materials of the Chinese Academy of Sciences and Maggette Siiico Technology Agricultural Film Co., Ltd. In view of the backward processing technology of mulch film covering crops in Xinjiang, which is difficult to recover and reuse, the existing demonstration and promotion of thickened mulch film technology path is not "to remove stocks and reduce consumption", nor is it the best way to control serious "white pollution" of soil in Xinjiang, On the basis of a large number of experiments and demonstrations for six consecutive years, guided by "accelerating the development of green and low-carbon agriculture and the utilization of waste resources", and based on the basic principle of "adhering to scientific use and reasonable reduction", we will carry out screening experiments, demonstrations, promotion, and application work on the effectiveness, recovery, and reuse of different high barrier membranes, as well as between high barrier membranes and thickened membranes.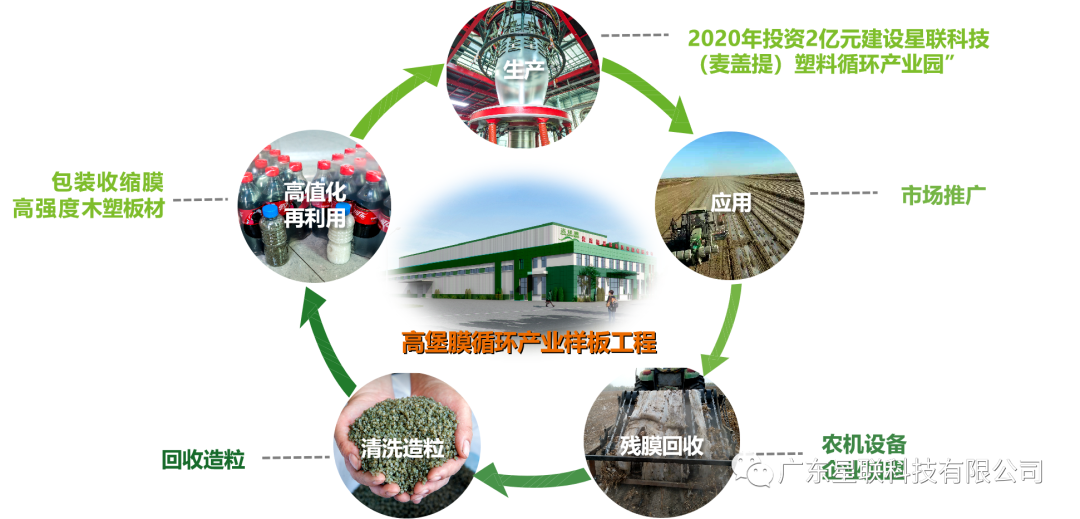 This project will form the key process research and demonstration of innovative high-strength plastic film products in Xinjiang, the supporting upgrade, innovation, and demonstration of Xinjiang cotton covering plastic film technology, the promotion and application technology system of Xinjiang cotton covering high plastic film, the supporting research and development, innovation, and demonstration of Xinjiang high plastic film residual film recycling machinery, and the research and development of high-value comprehensive utilization technology, equipment, and product creation of Xinjiang high plastic film, in order to overcome key technical problems; Improve the yield and quality of cotton in Xinjiang, solve the "white pollution" of farmland, increase the added value and commercialization of recycled residual film, and drive the green and healthy development of the "white industry".
The project will be carried out in six counties in Kashgar region, including Shache, Yingjisha, Shule, Shufu, Jiashi, and Maigaiti, focusing on cotton and chili crops.
After the launch ceremony, Liang Yongjun, Director of the Agricultural Bureau of Kashgar Region, stated that each project implementation unit must solidly carry out the Gaobao Film Experimental Demonstration Project, use their own data to promote the use of easily recyclable Gaobao Film throughout the region, improve agricultural production efficiency through new technology products, promote the development of agricultural waste recycling and recycling industries, and work together for food security, agricultural ecological environment protection, and rural revitalization.
---
Copyright © 2020 Siiico Technology Co., Ltd. 粤ICP备16105518号

粤公网安备44060502001892号 Support: 300.cn dongguan SEO